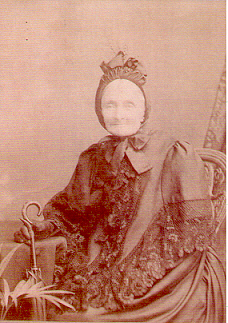 Agnes McLeod (1809-1896)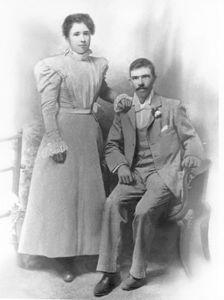 Elizabeth A (Tot*) McMillan & Samuel Hayman (Snr)
Agnes McLeod, my ggg grandmother, was a remarkable woman.  My ggg grandfather died when she was 34 not that long after she had had her sixth child, Alexander McMillan (my gg grandfather). She remarried to John McCance in fairly short order and had five more children in nine years. Her last child, Francis McCance, was born in Victoria just after Agnes and John had arrived in Victoria with their enormous family.
The book "Oceans of Consolation" by David Fittzpatrick contains over 40 pages of fascinating letters by John McCance back to family in Ireland about life on the Victorian goldfields. I wish I could say that I discovered this book but it in fact pointed out to me by fellow researcher Ian Dann. Ian also sent me the priceless photo of Agnes McLeod.
My Hayman side of the tree in WA started with George Hayman who got a free trip to Perth on the not so luxurious ship the Nile in 1858. George had already spent over eight years in prison in England after being sentenced to death in 1849. After reading the newspaper account of the trial it looks to me like he was framed!!
Before I found the light and moved to TMG I was using software which did not allow easy sourcing. Hence much of my early data is not well sourced. I have had help from many other researchers including Harold Coppock, Joan Govan, Ann Hoare and Ian Dann in compiling this data but I would like to make special mention of Eril Wangerek whom I regard as the doyen of Australian McMillan research and also Mick O'Dea who has done an enormous amount on the Hayman family. 
I still have a great deal of work to do to make the "Notes" tags against key family members more readable and less of a "data dump". This task will be ongoing for some time.
If anyone has more information, photos and/or corrections I would love to hear from you. To be on the safe side I have excluded Living People from the database. If you spot anyone who is still alive please let me know and I will remove them.