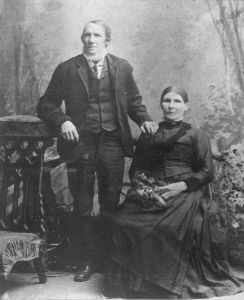 George Hillier & Catherine Mackel
My ggg grandfather, James Hillier landed in Adelaide SA in 1838 which was quite early in the life of the colony. What makes James a little different from my other ancestors is that 6 of his brothers and sisters as well as his parents also came out to Adelaide in either 1838 or 1840 (two ships). George and Sarah Hillier who are buried in Walkerville, SA are as far as I know my only 4th great grandparents to come out to Australia.
Between the seven children of George and Sarah that came out from Wiltshire in the late 1830's (most with their own children), the Hillier family now has a huge number of descendants in South Australia and Western Victoria. There are also quite a few in Western Australia.
I don't know why Francis Mortimer Bradley moved from Heywood, Vic to spend time around Bordertown and Mundulla in SA but that is where he met Catherine Hillier daughter of George and Catherine (my gg grandparents pictured below). Francis and Catherine had six children in Mundulla including my grandfather before they decided to make the journey to WA in the late 1890s. 
Before I found the light and moved to TMG I was using software which did not allow easy sourcing. Hence much of my early data is not well sourced. I have had quite a bit of help from other Hillier researchers including Judy Johnson, Amanda Cavenett, Martin Stockwell, Neil Simmonds, Paul Baker and Godfrey Collyer. Much of this data comes from them and others who hopefully will forgive me for not including everyone.
I still have a great deal of work to do to make the "Notes" tags against key family members more readable and less of a "data dump". This task will be ongoing for some time.
If anyone has more information, photos and/or corrections I would love to hear from you. To be on the safe side I have excluded Living People from the database. If you spot anyone who is still alive please let me know and I will remove them.